---
Trismegistus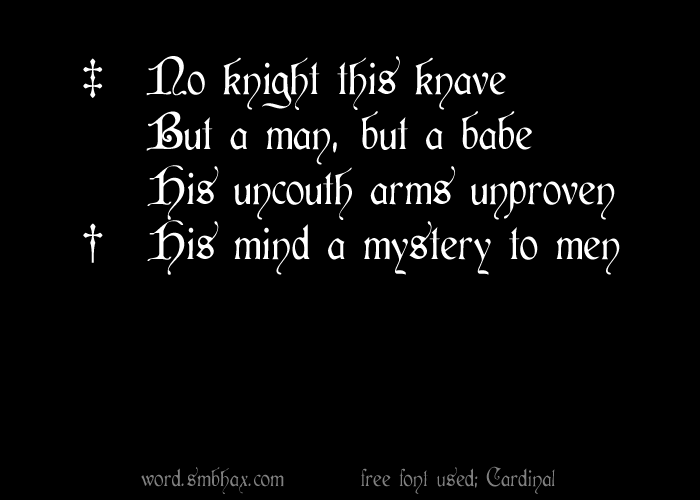 No knight this knave
But a man, but a babe
His uncouth arms unproven
His mind a mystery to men

~~~~~~~~

Lots of silly old wordplay here. I've been making my way--excruciatingly slowly--through the Middle English alliterative poem "The Siege of Jerusalem," and this morning mumbled my way through to line 108, in which a messenger describes the baby Jesus to Roman commander Titus (later emperor) as "A kyng and a knave child." "Knave" there means simply "male offspring," without the derogatory aspect by which we know it today.

"Trismegistus" means "thrice great" (what is that, Latin or something :p), and has all kinds of interesting conjectured origins; it is part of the name of Hermes Trismegistus, who was a combination of of the Greek god Hermes and the Egyptian god Thoth, and to whom, beginning in the second or third century AD, were attributed numerous writings on alchemy, astrology, and magic, although the name cropped up a century or two earlier, and the Hermes/Thoth combination was known to Greeks and Romans, maybe several centuries before that. But Hermes Trismegistus, moving through eastern civilizations before being rediscovered by the west, became known as a pagan sage credited with inventing alchemy, etc, and there was all kinds of crazy stuff associated with this from the Middle Ages up until quite recently, even. So "Trismegistus" has been said to have come from such various things as an ancient triple invocation of Thoth ("Thoth the great, the great, the great"), an association with the Trinity, a credit to his supposed mastery of the three "hermetic" arts of alchemy, astrology, and magic, or his being "the greatest philosopher and the greatest priest and the greatest king."

Well, that's fun. In this poem, technically it just refers to the triple attribution "knave," "man," "babe."

Originally I was going to use a font called "Kingthings Spikeless," and was going to call the poem "King Uncrowned," since I've had a lyric from a Dinah Washington rendition of "If I had you" (I think... It isn't quite this one, though, so I dunno maybe it was someone else... Huh it isn't this Carmen McRae, either... hrm) in my head:

I could be a queen dear, uncrowned
Humble or poor, rich or renowned

Buuut then I decided "king/queen uncrowned" was too common, and besides which Kingthings Spikeless turned out to be too hard to read. So, Trismegistus!